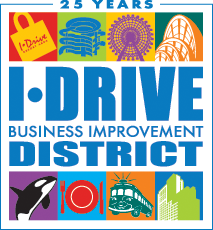 Transportation Initiatives & Projects
Links
---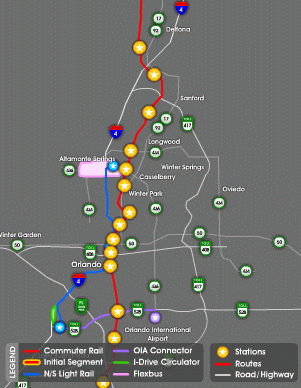 Changing the Way Florida Travels...
Traffic congestion is a growing concern for those who live, work and visit Central Florida. As our region continues to grow, that congestion will only get worse. Though there is no one magic bullet to solve our traffic woes, several different modes of transportation options working together - known as "intermodal" in transportation-speak - is a proven way to ease the gridlock.
That's why the Florida Department of Transportation (FDOT), in cooperation with the federal government and local officials in Orange, Seminole, Volusia and Osceola counties and the city of Orlando, is advancing SunRail, a commuter rail transit project that will run along a 61-mile stretch of existing rail freight tracks in the four-county area.
The 31-mile first phase of SunRail will serve 12 stations, linking DeBary to Orlando. Phase II will serve 5 additional stations, north to DeLand and south to Poinciana. Service is expected to begin in 2013.
---
LYNX provides public transportation services for Orange, Seminole and Osceola counties. Daily fixed-route local bus service provides more than 85,000 passenger trips each weekday spanning an area of approximately 2,500 square miles with a resident population of more than 1.8 million. Small portions of Lake, Polk and Volusia counties are served as well.
Other LYNX services include LYMMO, a free downtown Orlando circulator; a commuter assistance Vanpool program; ACCESS LYNX paratransit Service; nine PickUpLine community circulators; Xpress service from Lake and Volusia counties; and the Road Rangers sponsored by State Farm roadside assistance program on Interstate 4.